If you're looking for a comfortable and stylish gaming office chair, there are many options available. These chairs are known for their quality materials and design features. The Eurotech Vera doesn't feature adjustable lumbar support, but it does provide a comfortable fit for long hours of gaming. It also features a curved design and a high-quality mesh. It is priced in line with standard office chairs.
Winged backrests
The ergonomic design of gaming chairs can help reduce back pain and promote circulation. They also come with adjustable backrests that lock in a preferred position for maximum comfort and spinal alignment. Some of these chairs even have lumbar cushions that support different areas of the body. These chairs are built with comfort and quality in mind, making them the perfect choice for long hours of gaming or office work.
These chairs have high-grade steel frames and one-piece steel pipe structures. The upholstery is made from high-quality fabric to ensure long-term comfort. The curved backrest provides extra support to the spine, and the fabric is breathable, eliminating the pain of leather.
Waterfall design seats
Waterfall design seats are one of the best options when you need support for your back and thighs. This style of seat is made from contoured foam and features a waterfall front edge, which relieves pressure from behind your knees. It also enhances circulation of blood to your lower limbs, and its rounded design makes it suitable for people of all body types.
While waterfall design seats are popular in gaming office chairs, some models also feature a raised lip. If you have a problem with numbness, you may want to avoid these chairs. Waterfall design seats are better for gamers.
Raised lip
A gaming chair often features a raised front lip. This mimics a racing car seat and helps to maintain a 90 degree angle between the knees and the pedals. However, the raised lip can cause discomfort in the back and will limit the space you can sit in. It can also reduce blood circulation to your legs.
Gaming chairs are available in a variety of materials and colors. Most are made from microfiber leather. The raised lip makes the seat less ergonomic than a flat cushion, but it offers excellent adjustment controls. Gaming chairs also double as office chairs. You can get add-ons to customize your chair to fit your preferences.
Swivel-tilt mechanism
A gaming office chair with a swivel-tilt mechanism can increase comfort and help you get the proper sitting position. It can also reduce lower back pain. Some models come with multiple levers that allow you to customize the amount of support and resistance.
A
gaming office chair
that has a swivel-tilt mechanism is one that can tilt its seat backward and forward, while still allowing you to lock it into the proper position. Some models also offer a synchronized tilt mechanism that will allow you to adjust the backrest so that you can find the right posture.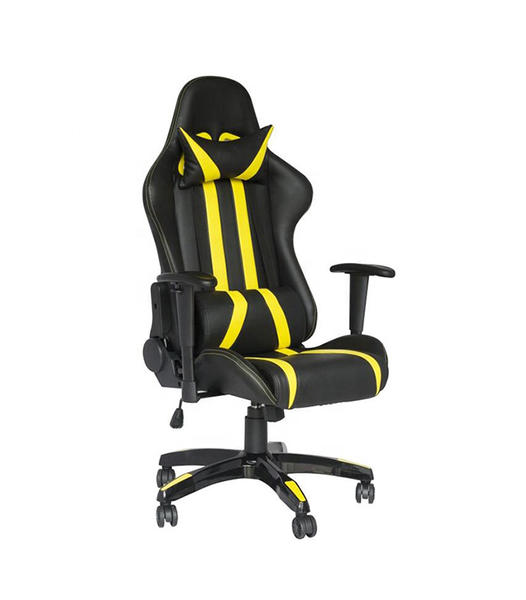 Adjustable armrests
Most gaming office chairs come with adjustable armrests, which help you set your arms in the right position. You don't want your forearms to be resting on the armrests, and you don't want your wrists resting on the keyboard edge. You can also adjust the armrests' width if you prefer.
Besides armrest height, adjustable gaming chairs also feature armrest width, allowing you to move them laterally. If you're gaming all day, adjustable armrests make it easier to sit in comfort.
Lack of lumbar support
A gaming office chair's lack of lumbar support can cause problems for your back and legs. This condition can be especially problematic for those with short legs. Because they can't plant their feet at the desk, short people struggle to sit properly and may end up with serious back and leg pain. To remedy this situation, you should consider purchasing a footrest. A proper lumbar support is crucial in order to maintain a neutral posture while gaming.
Low-end gaming chairs usually have no lumbar support at all. However, higher-end chairs often feature adjustable lumbar support. The lumbar support of a gaming office chair is crucial for proper posture and comfort.