When you are looking for a Computer Gamer Desk, you're likely considering the features and price. You can choose from T shapes and Full Coverage, or you can get something with a headphone hook. 
T shape
A gaming desk is an essential accessory for any home gamer. Whether you're the ultimate pro-gamer or just love to play computer games, a gaming desk can help you achieve optimal performance. The desk's carbon fiber tabletop provides the perfect touch for long hours of gaming, while its two grommets and power strip bracket keep your computer stable. Some of the best gaming desks even come with a cup holder and a headphone hook, for optimal gamer functionality.
While a T shape design is not for everyone, it may be the right one for you. This versatile piece of furniture includes a cup holder, headphone hook, and four USB charging ports. Its elegant, modern design and laminated surface make it waterproof and sturdy. It also features a digital display board and electrical height adjustment. It's also adjustable in four heights. This means you can adjust the height to fit your needs.
If you're a gamer who enjoys creating a cozy atmosphere while gaming, then this desk is definitely worth checking out. With ample room for multiple monitors, this desk is perfect for gamers. The fully covered mouse pad provides a comfortable place for gaming, while the special keyboard tray offers enough space to store multiple gaming controllers. Other features include four USB ports, a socket holder, and double headphone racks. Large cable management makes it easy to keep your gaming setup neat and organized.
A good quality gamer desk is easy to assemble. Most of them are made of wood, metal, or plastic. The main objective is to make the desk durable and easy to use. However, if you're looking for a gaming desk that can support multiple monitors, the Rising furniture L Shaped Gamer Desk is an excellent choice. This desk has an adjustable leg pad that will give you extra comfort while gaming.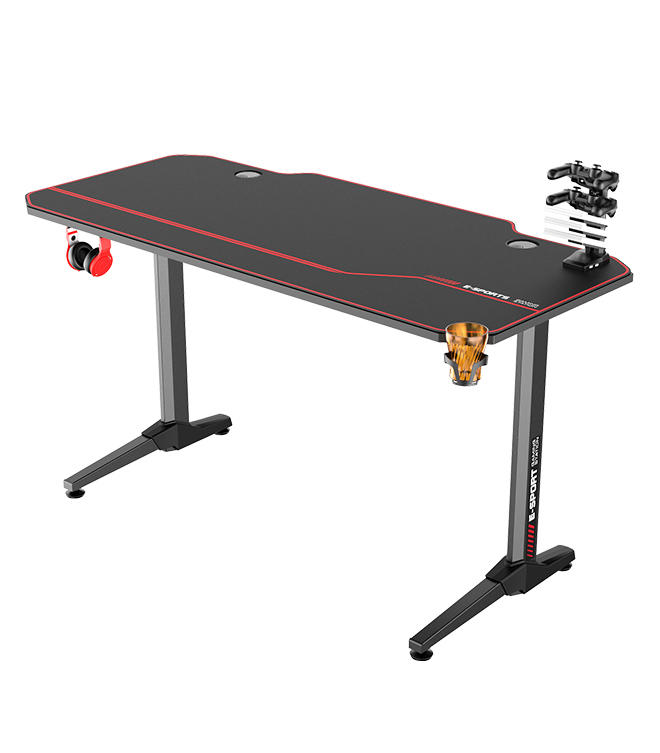 Full Coverage
Unlike traditional computer gaming tables, this gaming desk provides generous game surface. Its carbon fiber desktop is stain-resistant, easy to wipe clean, and supports your forearms and wrists. Its sturdy steel frame and thickened all-metal legs keep it stable even on a rough floor without additional support rods. It also features a cup holder and earphone hook. Full coverage covers all four sides of the desk.
The desk also comes with a full-cover mouse pad, cup holder, and USB hole. The desk's legs are made of strong material that will support hundreds of pounds. You'll find that these adjustable-height legs offer excellent stability, and you can purchase different-sized versions of them for a variety of purposes. Regardless of whether you're a professional or a weekend warrior, it's important to purchase the right computer gaming desk for your needs.
Waterproof Mouse
The Surface: The Gaming Desk's waterproof mouse pad is made of PVC carbon fiber and is 3mm thick. This surface offers excellent mouse sensitivity and is easy to clean. The desk is designed to accommodate three monitors and supports 300 pounds. The desk also includes a cup holder and headphone jack. Its design also allows for convenient cable management. A gaming desk is a great choice for the gamer looking for a comfortable environment.
The Design: This gaming desk features a large, non-slip mouse pad with integrated cup holder. It also has a controller charging station that plugs into the desk via USB. Its four USB ports allow you to charge your gaming consoles or other accessories. The Pad: The Gaming Desk has a large, non-slip mouse pad for stability while playing. It also has a cable storage rack in the back.
Headphone hook
A professional computer gamer's desk has all the amenities he needs to enjoy his favorite games. It comes with a cup holder, a headphone hook, and two controller stands, and it preserves maximum desktop space. The desk's mounting holes allow you to adjust each accessory holder to your liking. It also comes with a large, washable mouse pad. It is perfect for both home offices and student environments.
The computer gamer desk has a raised monitor shelf to prevent neck strain and features a built-in headphone hook. It is large and features smooth edges. It looks sleek and complements any room's decor. The company also offers customer service. They are an excellent choice when it comes to computer gamer desks! The company offers a range of products that fit the needs of professional and home office spaces.
Cup holder
A cup holder for computer gamer desk is a convenient way to keep beverages within reach while at the desk. Some desks come with built-in cup holders and headphone/VR headset hooks. You can find a variety of different models online, but we'll focus on three of the most popular. All have at least one cup holder. In addition, these models include several extras, including headphone/Vr headset hooks and monitor stands.
The Gaming Desk is made especially for gamers. It is built with a sturdy steel T-frame structure and thickened steel-pipe legs. Its large gaming desktop surface is scratch-resistant and offers ample space for your gear. It also includes cup holder, headphone hook, and game storage space. The gaming desk's T-shape frame ensures stability and durability. Featuring a comfortable PVC carbon fiber surface, this desk is both comfortable and easy to clean.
A professional-quality computer gamer desk offers a simple appearance with a large gaming desktop surface and a weight capacity of 220 pounds. It has plenty of room to store your gaming gear. A cup holder, headphone hook, and game storage space make it a great choice for a dorm room, home office, or bedroom. In fact, it is the ideal size for any room. You'll be able to place your gaming equipment anywhere and have plenty of room to move around.