If you're looking for a computer desk that will make your gaming sessions fun and memorable, the Rising furniture Racing Style Computer Desk is a great option. Its generous gaming surface and chic side LED strips will make the experience even better. It also features two cable management holes and adjustable footpads for stability on uneven surfaces. The tabletop features cable management channels for easy organization. This desk comes with a silicon RGB light with remote controller.
This desk is made from P2 MDF and iron, giving it an elegant look. It has a large desktop, which is ideal for your gaming needs, but it's not cluttered. It also has an ergonomic monitor shelf, which keeps your computer screen at eye level to avoid neck fatigue and allows quick access to peripherals. It's also compatible with many different types of games and can be used indoors or outdoors. The sleek design and sturdy construction make it an excellent choice for gamers who are interested in playing their favorite video games.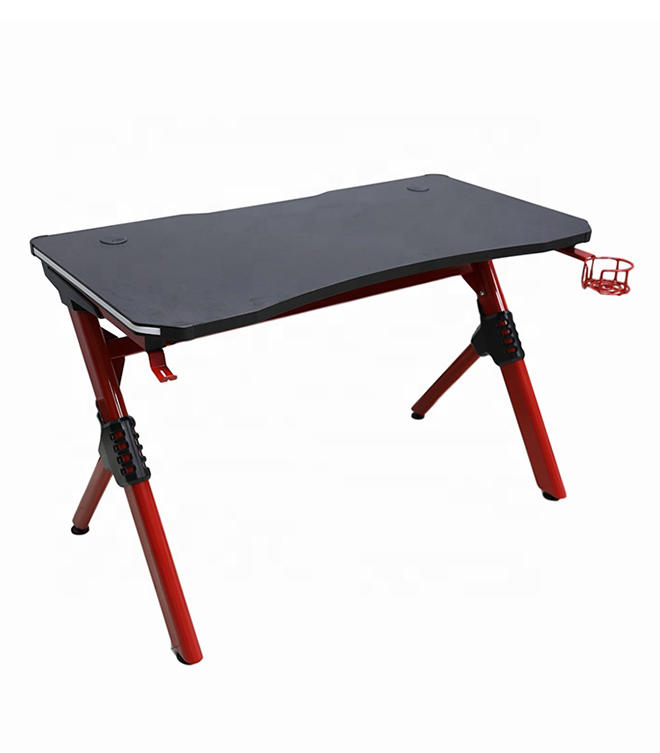 The top of the desk is made of P2 MDF and iron, which make it ideal for gaming. Its large surface area and clean lines allow you to easily position your monitor without worrying about any messy spots on your desktop. There's also an ergonomic monitor shelf that keeps the computer screen at eye level, preventing neck fatigue and enabling quick access to computer accessories. The legs are adjustable, and most come with two sets. The adjustable height legs of the desk are very important for ensuring your comfort while using it.
A gaming desk with adjustable legs is the best choice if you want a stylish gaming desk without being bulky. A gaming desk should provide ample space for your monitor and other peripherals, including speakers and headsets. The legs should be sturdy and secure, and should not interfere with your ability to play games. Some desks also come with caster wheels, allowing you to move the desk to a different location easily. If you're using the desk for gaming outside, you'll want to opt for a desk with fewer casters, as it will prevent slipping and sliding.
A gaming desk with adjustable legs is the perfect choice for gamers who need a gaming computer desk that has a high level of comfort. Its smooth surface and lack of dead angles make it a perfect choice for gamers of all levels. A gamer's desk is functional and looks great in any room. This type of computer desk is the ideal choice for any gamer. So, you can play your favorite games in style and enjoy a great gaming experience at the same time.
A gaming desk with adjustable legs is a great option for people who enjoy gaming. This type of desk is very versatile and can be used in a variety of settings. Its adjustable legs let you set the height and tilt the table to the right position. A lot of gaming computers are mobile, and you can move them from place to place. But if you don't have a room with caster wheels, you might need a desk with more casters.
A gaming desk should be comfortable to use. It should be able to accommodate your monitor and other peripherals without causing you any kind of neck or back pain. Whether you're using the desk for gaming purposes or for home entertainment, it is a great addition to any room. It's the perfect accessory for a gaming enthusiast! You can place it anywhere you'd like. And it won't look out of place in a living room or office.
It is important to choose a desk that is ergonomic. This means that you should choose a desk that has adjustable legs that adjust the height of the desk. This will also prevent you from tripping over cables and other gadgets from falling off the table. You should also consider the size of your monitor. It should be compatible with your current monitor and be easy to move around. Depending on your preferences, you may need to buy a gaming desk with caster wheels.