If you like to play role-playing games, getting a large gaming table is a must-have. They look fantastic in dens and man caves, and are an ideal place to bring friends and family together to play tabletop games. With a large table, you can bring friends and family over for hours of fun and games every weekend. There will be more room at the table than you'd think possible, so everyone can join in.
L Shaped
If you are looking for a gaming table that is compact, stylish, and can save space in your room, then you should opt for an L-shaped table. They come in different shapes and sizes and are available in different colors. An L-shaped computer desk, for instance, comes with 3 separate pieces that can be installed side-by-side or with longer boards at either end. In either case, you will have plenty of room to work and play games without feeling cramped.
There are many different styles of L-shaped gaming tables. Some come with glass tabletops, while others are made from particleboard. While both types look like a traditional L-shape, some L-shaped gaming desks have rounded corners or a corner cut-off. There are also options that feature standard 90-degree angles. Whichever you choose, you will be happy with the design. Whether you decide to go for a glass-covered desktop or a lightweight metal table, you should know that they will fit into your room.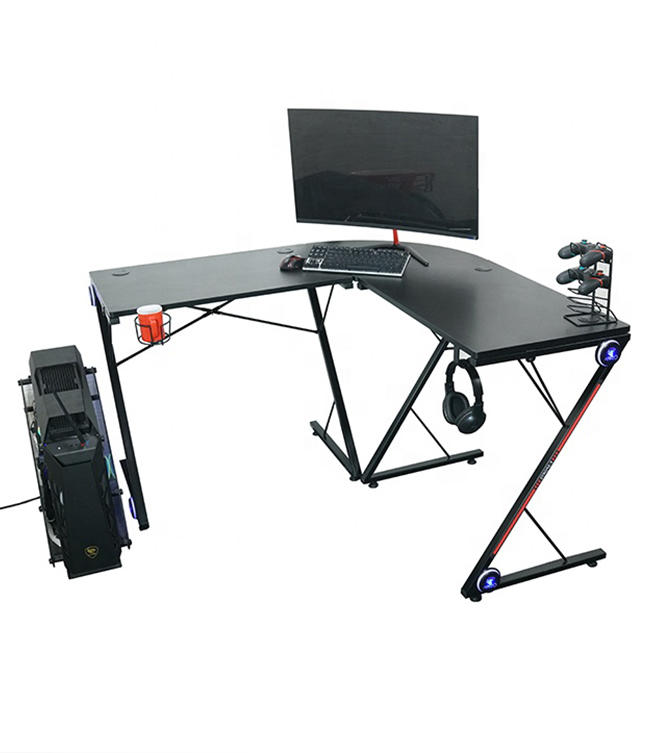 Considering the size of your gaming area, you may be wondering what type of table would best suit you. An L-shaped table is typically large enough to hold a computer and a keyboard tray. Most of them are made of high-quality stainless steel. They are sturdy enough to handle the weight of a desktop computer and multiple monitors. Regardless of what style you choose, they will offer a large surface for gaming.
For the ultimate in gaming, you may want to look into a gaming desk with a U-shape. This type of desk will also offer plenty of extra space for your PC, speakers, and monitor. The best part about an L-shaped desk is that it is also suitable for use as a home office. It is a versatile piece of furniture that will be a valuable addition to your home. It is also portable and easy to store.
A L-shaped gaming desk offers an almost-full L-shape workspace, perfect for a gaming setup that utilizes more than one monitor. This style is also compatible with multiple monitors and has a built-in shelf for extra storage. An extended L-shape gaming desk, offers a large workspace and a convenient small drawer.
metal/ PB
The L-shaped gaming table has a variety of color options and is perfect for a smaller room. This gaming table is made of tempered safety glass and durable steel, with a universal desktop stand included. Its sleek design allows it to be mounted on either side of your desk, and the adjustable height feature allows you to change the height within 10 seconds. Its angled legs and smooth desktop make it easy to clean and maintain.
The rowing-lift raising mechanism enables you to raise the lower half without impacting the desktop. The height-adjustable converter is compatible with your existing desk, and it does not require any assembly. The gaming table is constructed from high-quality materials and features a sturdy metal base for stability. Its base is made of all metal, with adjustable feet that are easy to adjust. The table's height can also be adjusted so that you can set the height to fit your preferences.
Upholstery Material
While a gaming table is made of plastic, there are other options for the upholstery material. Choosing a fabric will depend on how durable you want the material to be. There are two types of fabrics: cut pile and upholstery fabric. Cut pile fabrics have long threads and feel soft. However, these fabrics are not as durable as upholstery material made of real leather. They can become loose after time, and they can even pill. These fabrics are also not water resistant and lose their original appearance when wet. As a result, you should choose upholstery-grade fabrics for a gaming table.
If you want a more luxurious look, you may opt for linen or acrylic fabric. Both types are available in a variety of vibrant colors, and they are resistant to fading and sun damage. However, linen and acrylic fabrics require professional cleaning. You should also take care not to overuse the fabric because it is sensitive and susceptible to wear and tear. However, if you want a gaming table that looks great in your room, velvet is the right choice.