High-end, Leather, Ergonomic, Swivel,... oh my! There are so many options when it comes to gaming chairs! Which one will suit your needs? Let's take a look. There are plenty of benefits to each type of chair. Which should you buy? What are the best features? These questions will help you find the perfect gaming chair. And keep in mind, there's a chair out there that's perfect for you!
High-end
A gaming chair is a piece of furniture that can give you the perfect posture while playing video games. While you may not need the perfect posture to play games, a high-quality chair will ensure your comfort and enjoyment. The Rising furniture Gaming chair is a chair that combines science-based design with dark aesthetics. It features adjustable armrests. It is also eco-friendly, made with 52% recycled materials.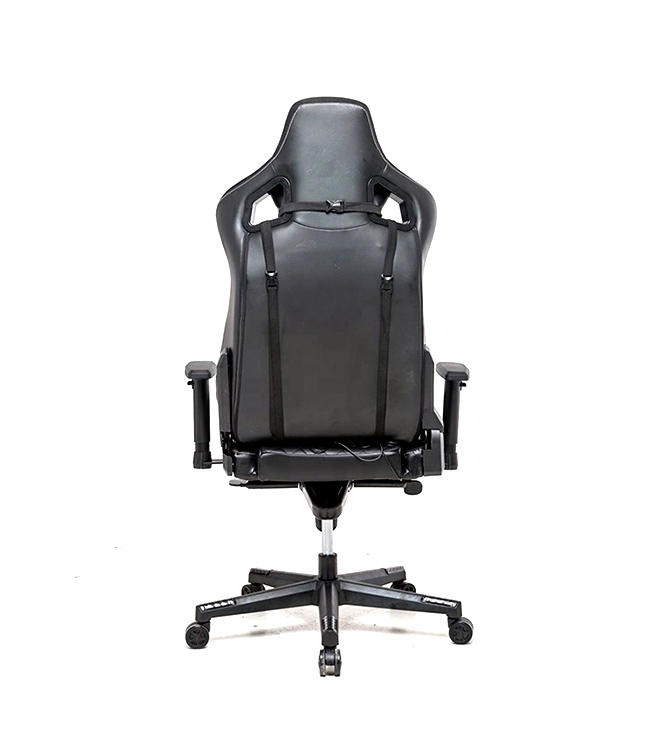 When purchasing a high-end gaming chair, consider its comfort and durability. PU leather, also known as faux leather, is easy to clean but isn't nearly as durable as real leather. However, real leather is much more expensive, and is likely to last longer. Suede-like material is another option, but this type of fabric is softer than leather and may be more suitable for gaming purposes. A gaming chair should also come with a good warranty.
If you have the space to spend on a high-end gaming chair, you should buy one with high-quality foam and back support. A good regular office chair provides similar support and comfort. Some of these chairs have a race-car-style bucket seat design, which is made to look fast and streamlined. 
Leather
If you're considering a new leather gaming chair, you have many options to choose from. This material is extremely durable, but the type you choose will depend on its quality. The tighter the weave, the more durable it will be. Premium weaves are guaranteed to be more durable than fabric chairs. Fabric is less likely to stain and will be easier to clean. Fabric also breathes better, so food crumbs will be less difficult to remove from your gaming chair.
PU leather is another option for leather gaming chairs. PU leather is an affordable alternative, but is softer than a real leather chair. You can get it in a variety of colors and choose the upholstery style. Many of these chairs come with head and lumbar pillows, making them a more comfortable fit for your back. You'll also find many color variations and upholstery choices, including top-grain leather. If you don't want to spend a lot of money on a gaming chair, PU leather is a good choice.
Aside from being more comfortable, leather is also more durable than imitation leather. Genuine leather will last a lifetime and can improve with age. In addition, genuine leather will hold up better against wear and tear than PVC leather. PU leather is more likely to crack or peel, while genuine leather will maintain its color and feel better over time. A high-quality gaming chair made of genuine leather will keep you comfortable and cool. One brand that uses real leather in its high-end models is Noblechairs.
Swivel
You can purchase a Swivel Gaming Chair if you want to stay comfortable while you play games. This type of chair comes with a 360-degree swivel and comes in a variety of colors and styles. One of the most practical swivel chairs is the Berkeley Fabric Swivel Recliner Chair with Foot Stool. The Berkeley Fabric Swivel Gaming Chair has a footstool, making it a practical and versatile choice for your gaming room.
Whether you prefer to sit in a traditional chair or one that is made of high-quality faux leather, a Swivel Gaming Chair is a great choice for you. Its waterfall design and contoured profile add comfort to your game. The seat edge protrudes a bit from the back, supporting your lower knees and allowing blood to flow to your legs. The chair has adjustable headrests and padded armrests, making it ideal for long gaming sessions.
There are several benefits of purchasing a Swivel Gaming Chair. These chairs are designed to be comfortable and have casters for smooth movement. That means you can easily move them around your workspace or gaming room. Some models feature flexible reclining positions and armrests that flip up to make getting in and out of them an easy task. There is a Swivel Gaming Chair for everyone. If you want to know more about the Swivel Gaming Chair, check out the Amazon reviews.
The Swivel Gaming Chair is one of the most comfortable chairs on the market today. Its ergonomic design makes it ideal for intense gaming sessions and also provides a comfortable seat for relaxing and reading. The chair is lightweight, easy to move, and can even be used for casual activities, like watching TV or reading. Its lumbar cushion makes it the perfect choice for gamers of all ages and is compatible with a wide range of computers.
Ergonomic
When you're playing games, you need to have the best possible posture, and that means getting the perfect gaming chair. Ergonomics are very important, because sitting in the wrong position can lead to neck and back pain. Avoid slouching or leaning forward, and make sure your chair has adjustable features. Your posture will thank you. Here are some tips to get the best gaming chair ergonomics. Adaptable seat height - Your seat should be at eye level, or slightly higher.
Ergonomic design - An ergonomically designed chair will support your body in a way that makes it comfortable to sit in. An ergonomic gaming chair has firm, yet soft cushions that provide support and allow full range of motion. It should be made of soft real leather, and its cushioning should be comfortable yet firm. Ultimately, you should be able to enjoy your gaming experience for years to come. A gaming chair that's comfortable and well-designed will help keep you healthy and productive.
Lumbar support - The lumbar support in a gaming chair is crucial for optimal comfort. If you're experiencing neck and back pain, lumbar support will keep your neck and head in a neutral position. Also, lumbar support can improve posture by preventing pain and disc issues. It should also be firm and end at waist level. If the support is too high, you might experience discomfort when sitting in that position for long periods of time.
Adjustable armrests - Generally, a gaming chair with padded armrests is better than a chair that's angled backwards. It also has the lowest compression and stress on the back. Armrests can also be adjusted in several dimensions. While cheap chairs usually have fixed armrests, mid-range and high-end gaming chairs have a wide range of adjustments and can adjust the height to your liking.
Recliner
If you are an avid gamer, you may be wondering what makes a good recliner gaming chair. There are many reasons, including comfort, durability, and style, but there are some key differences in gaming chairs. Fabric chairs are less durable than leather imitations, and are not as breathable as genuine leather. Leather recliners also cost more. Fabric chairs also have a higher risk of catching fire because of the synthetic leather used to coat the base.
This recliner gaming chair features four massage points. The massage function relieves tension and keeps the body energetic. The chair also features an adjustable headrest to help prevent headaches. The PU leather upholstery feels incredibly cozy and is easy to clean. It also has a smooth backrest to reduce fatigue during long gaming sessions. The Merax recliner is available in three sizes, with adjustable arms, a wide base, and dual armrests.
Furniwell is another great option if you are on a tight budget. This recliner features a high-end upholstery and a stylish design. The Gymax recliner has a PU leather seat that is comfortable and supportive. The red touches of the fabric make it ideal for gaming, but you may want to check the manufacturer's warranty before making a purchase. If you are in the market for a recliner gaming chair, the Furniwell is worth a look.
This gaming recliner has a high resilience sponge cushion that is waterproof. It has an adjustable footrest and backrest to ensure maximum comfort while gaming. It also has a strong, stainless steel frame to keep it from breaking down or causing scratches. This gaming recliner doubles as a massage chair as well. Its design will complement any decor and is compatible with multiple types of game consoles. It also has a hefty weight capacity of 265 pounds.